LABOR DAY PARADE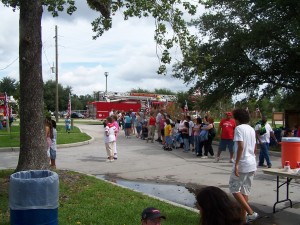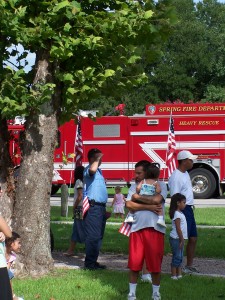 LABOR DAY PARADE- ANNUALLY – Since 2003 – Pictured in 2007 it was the 5TH Annual Labor Day Parade with free picnic lunch and watermelon for the community donated by Timber Lane CIA, Hays Utility South and TLUD. We had 500 people in the parade and served 700 lunches. We also had live music during the picnic lunch.
The parade in 2013 was the 11th year, sponsored by HEB, and served over 1100 lunches.
This year 2023 we will be celebrating our 20th year of having the parade and will have some special activities on September 4th  2023.  The parade is sponsored by our local Foodtown supermarket.
AMERICAN FLAG PROGRAM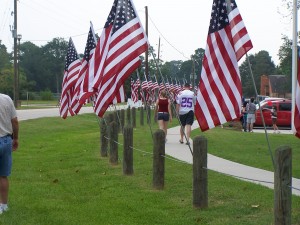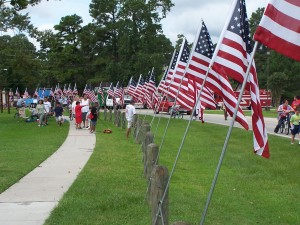 This program posts flags at our parks by the Boy Scouts of Troop 355 and Troop 62 on the flag holidays approved the TLUD Board of Directors.
FLAGS ARE POSTED AT OUR 5 PARKS BY BOY SCOUT TROOP 355 AND BY TROOP 62 ON THE FOLLOIWING DATES FOR 2022-
MLK DAY– JANUARY 16TH
LINCOLN'S BIRTHDAY – FEBRUARY 12TH
WASHINGTON'S BIRTHDAY /PRESIDENTS DAY– FEBRUARY 20TH
TEXAS INDEPENDENCE DAY – MARCH 2ND
FIREFIGHTERS MEMORIAL DAY – MAY 4TH
SAN JACINTO DAY – APRIL 21ST
PEACE OFFICER'S MEMORIAL DAY – MAY 15TH
ARMED FORCES DAY – MAY 20TH
MEMORIAL DAY – MAY 29TH
FLAG DAY – JUNE 14TH
EMANCIPATION DAY – JUNE 19TH
INDEPENDENCE DAY – JULY 4TH
LABOR DAY – SEPTEMBER 4TH
PATRIOTS DAY – SEPTEMBER 11TH
CONSTITUTION DAY – SEPTEMBER 17TH
COLUMBUS DAY – OCTOBER 9TH
NAVY DAY – OCTOBER 27TH
VETERANS DAY – NOVEMBER 11TH
PEARL HARBOR DAY – DECEMBER 7TH
STATE OF TEXAS DATE OF ADMISSION – DECEMBER 29TH
HALLOWEEN HAUNTED HOUSE (tempoarily suspended)
This annual event at Liberty Park includes the Haunted House built by community volunteers, moonwalk, Water Is Life booth and blow up slides. In 2007 we had 98 volunteers work in the construction and operation of this event. We had 3000 people attend.
All donations to the Haunted House and food items went to Spring Assistance Ministries (our local food bank) and NHS Spring HS Scholarship Fund.
Halloween Haunted House
NATIONAL TRAILS DAY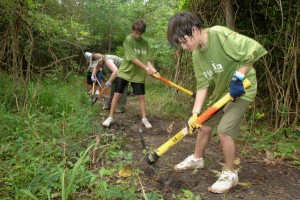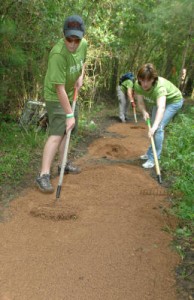 This event has taken place on the first Saturday in June since 2007 had hundreds of volunteers from the community to work on our Cypress Creek Hike and Bike Trail.  There have been many groups represented – Boy Scout Troops 62, 263, 382, and 1565, Girl Scout Troops, Order of the Arrow Chapter, Texas Master Naturalists (Heartwood and Gulf Coast Chapters), Precinct 4, Geocashe, GHORBA and REI.
NEIGHBORHOOD FISHING PROGRAM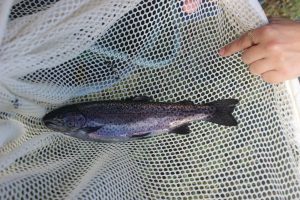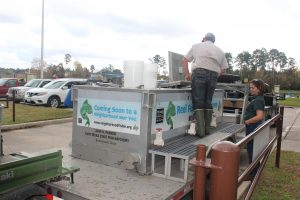 In conjunction with Texas Parks and Wildlife -Fisheries Division we are sponsoring a special Neighborhood Fishing Program at Herman Little Park where we are stocking rainbow trout every two weeks from November through March.  Then we stock catfish April through November.  There is a limit of 5 trout per person according to state regulations and a state fishing license is required if you are 17 or older.  Herman Little Park is located at 18660 Casper Dr.
Cypress Creek Park at 1902 Naplechase Crest Dr. received a one time stocking on 1/14/2023 of 1800 rainbow trout at the Beaver Pond.
Regulations
No Minimum Length Limit; Daily Bag = 5 trout
An angler fishing in a Community Fishing Lake or from a dock, pier or jetty within a Texas State Park may use no more than two poles.
Special limits are in effect on parts of the Guadalupe River.
Fishing Licenses
Adults: Buy yours online, by phone (800-895-4248), or at a retailer for as little as $11 for resident one-day, all-water fishing.
Kids: No license is required for anglers under 17 years of age.
Visitors of all ages can fish without a license within Texas State Parks.
Check the Stocking Schedule before you go. Dates and locations are subject to change due to weather or other circumstances.